Mickey Miela, Athletes InterVarsity Staff in Worcester, MA gathers over 50 athletes from different college teams at the UMass Boston Indoor Invitational Track Meet to pray.  As he goes from group to group, inviting over 15 different teams, he shares how boldly stepping out in faith becomes contageous.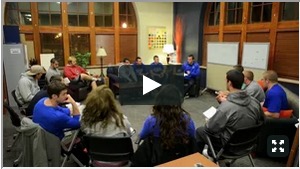 Watch a powerful story of what God has been doing through Athletes InterVarsity on four different campuses across the country. This video highlights athletes who are discovering God's love and their identity as children of God, impacting their teams, and influencing the world around them.  
Meredith Beaton, Athletes InterVarsity staff at Boston University, reflects on the beautiful contradiction that Jesus shares with us that to truly live, we must be willing to give it all away.  As college athletes and coaches, what would this look like for us?